Cannara, Umbria, Italia
(map)
(wikipedia)
Cannara is a small friendly village with everything necessary for everyday life within a 5 minute walk.  Services around town include: a supermarket, alimentary store, fruit & vegetable store, butchers, restaurant, post office, dry cleaner, laundromat, banks, as well as many bars (caffés) and churches.
Ada, our local vegetable lady, sells her fresh produce on Wednesdays and Fridays just outside the walls of the town from 8am till noon, and on Friday a vendor stops by in the same place to sell fresh fish from the Adriatic Sea.
Local Festivals: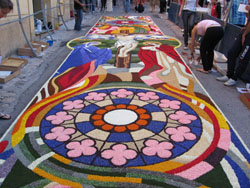 Infiorata di Cannara  - the more famous version takes place up the hill in Spello, but here in Cannara you can actually help out and paint the town with flowers!  In 2014 the Festival will take place from June 21 at sundown until June 22.


La Festa della Cipolla – one of the most famous festivals in Umbria, the onion festival of Cannara is everything onion: from 6 taverns with an "all onion menu" to a lively market winding through the town, to the Onion Disco pub.  In 2014 the festival will take place from September 3 – September 14.  Festa della Cipolla